Six (6) Benefits To Bet With Betting Tips
< Back to Blog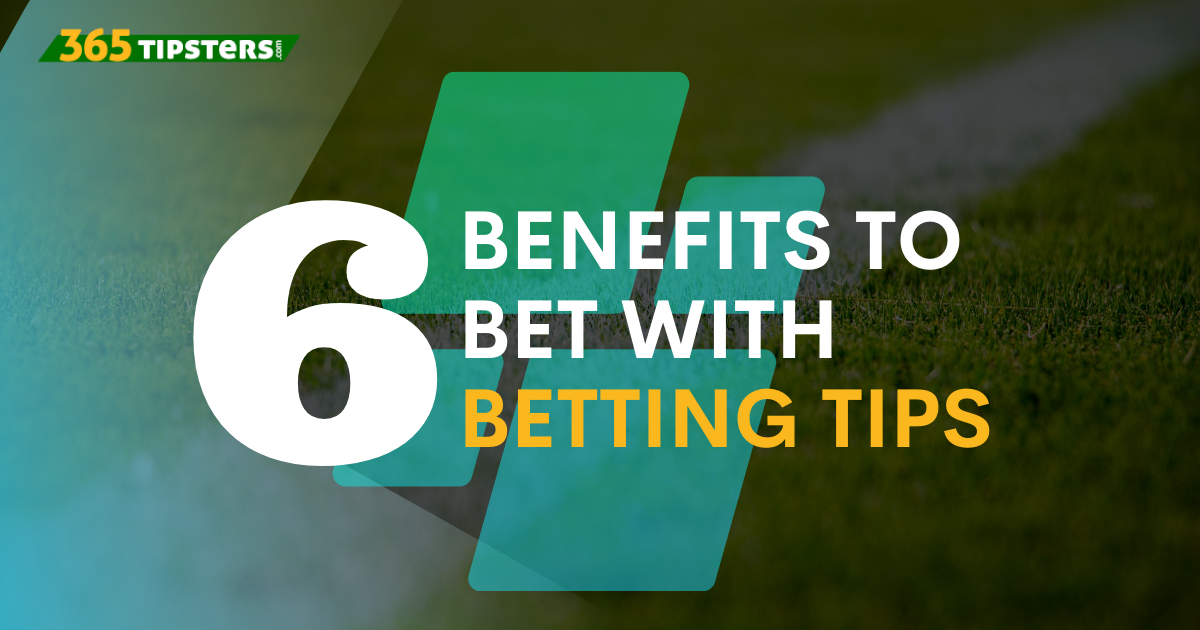 Six (6) Benefits To Bet With Betting Tips
Date : May 01,2022
Categories :
6 Benefits To Bet With Betting Tips
When punters use betting tips, it may come at a cost (for paid tips) or free (for free leads). The cost incurred in obtaining the betting tip must be lesser than the benefits derived from making a wager on such a tip. It means a punter can benefit from betting tips at a cost. However, the return on the information should be higher than the cost incurred on the betting tip to make the trip worthwhile.


Benefits To Bet With Betting Tips
The benefits of betting tips on 365tipsters include a higher betting accuracy, more accessible entry to new betting markets, free and paid tips depending on the situation, help save resources, access to multiple sporting events, and access to various angles.


1. Higher Accuracy
Punters that use specific tips and tipsters report a higher level of accuracy versus punters that choose not to use tipsters or betting tips. A higher level of precision doesn't always mean higher profits. Still, a higher level of accuracy means a punter is getting most of their wagers correct. The punter also has the opportunity to make a significant profit by increasing their accuracy. The median precision of most punters on actual outcomes is 50-50 or a 50% chance of winning. Using tips, punters can increase their chances of winning consistently from 50% to 60%, which is a significant increase in inaccuracy.
2. Easier Entry To New Betting Markets
Punters can quickly enter new betting markets with the help of betting tips on 365tipsters. For a punter in Asia, entering a new betting market like the USA or South America may seem difficult. A punter doesn't have experience in the latest betting market, and with the help of a tip, a punter is pointed in the right direction in terms of which wager to make, the most straightforward chance to win, the safest stakes, past trends, and metrics. Examples of betting markets include most goals, first to score, both teams to score, handicap, Asian handicap, over/under, no draw bets, and other betting markets from different sporting events, leagues, and countries.
3. The Use Of Paid And Free Tips
The use of paid versus free tips is always a debate for punters to consider depending on preference and betting goals. However, punters are advised to use free and paid tips when making wagers. Punters gain access to a limited number of free tips every day and several paid tips available on demand. The key to both free and paid tips enables punters to confirm existing wagers and opens the punter to the potential of new wagers on different outcomes or betting markets.
4. Saves Resources
Consider a punter who wants to make ten wagers simultaneously on different outcomes. A lot of time, energy, and effort go into researching ten other products, especially if they're from 10 different matches. A punter may not have the time or access to the correct information, which is critical when making wagers. Tips ensure a punter has access to the right information in an easy-to-digest format to make betting decisions. Essentially, a punter can stick to making wagers while outsourcing components of the betting process to save time, energy, and resources.
5. Multiple Sporting Events
Punters can make wagers on multiple sporting events from every corner of the sporting world. For example, within football wagers, punters can make wagers on the Premier League, La Liga, the Bundesliga, Serie A, Ligue 1, the MLS, the CSL, the ISL, the Champions League, the World Cup, and more. Punters can also utilize tips for other sporting events such as horse racing, basketball, baseball, boxing, and betting markets. Punters have access to multiple sports betting opportunities, but punters also have access to profitable betting decisions when making wagers.
6. Access To Types of Tips
Punters can select the types of tips from specific tipsters that match their betting goals, betting styles, and betting systems. For example, punters can choose from a wide range of junior, senior, premium, or bundle tipsters specializing in particular betting markets or sporting events. As punters move from junior to bundle tipsters, the cost of tips and accuracy increases significantly.